InnoVETive Solutions is a Joint Venture (JV) between CPMC, LLC and T-Rex Solutions, LLC. This JV combines the industry- leading technical expertise of the mentor, T-Rex Solutions, with the world-class Program Management expertise of the protégé, CPMC. The executive leadership of these companies have worked together for years and the companies have partnered on several notable programs, including the US Census Bureau's 2020 Census Technical Integrator Program.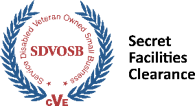 CPMC is a Service-Disabled Veteran-Owned Small Business (SDVOSB) that makes complex program management concepts simple, helping organizations accomplish a wide array of challenging program management goals. CPMC stands at the forefront of the PM market, bringing the best tools and talent, and the applied knowledge of its leadership team.

T-Rex Solutions, LLC develops, integrates, operates, and protects our government customers' mission critical applications and data by applying innovative engineering solutions in the areas of Cloud Adoption and Infrastructure Optimization, Cybersecurity and Data Engineering and Analysis.